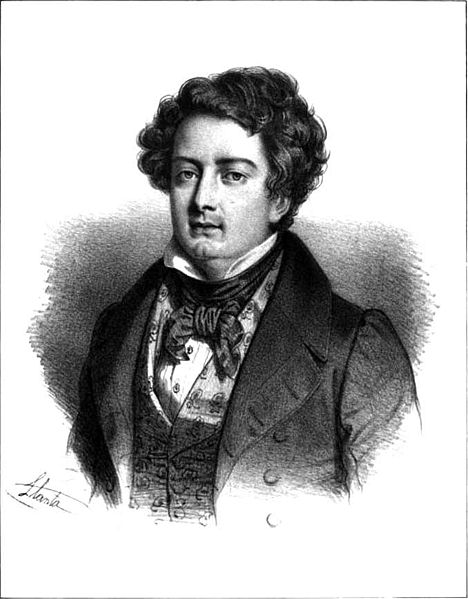 Adolphe Nourrit

b
3 March 1802, Montpellier;
d
8 March 1839, Naples
Considered the "first great dramatic tenor" (Walker 2008, 411), Adolphe Nourrit was the son of another great French tenor, Louis Nourrit (1780-1831). He studied with
Manuel del Pópulo Vicente García
for 18 months (Walker 1992) and sang the role of Noradin (created for him) in the premiere of García's
Florestan, ou Le conseil des dix
on 26 June 1822. When his father retired from the Paris Opéra in 1826, Adolphe Nourrit reigned as principal tenor until he resigned in 1836. He created roles in various Rossini operas, including that of Arnold in
Guillaume Tell
(1829), as well as important roles in Meyerbeer operas: Robert in
Robert le diable
(1831)—a favorite of Chopin's—and Raoul in
Les Huguenots
(1836).
In 1837 Nourrit travelled to Italy where he studied with Donizetti in Naples. His debut in Mercadeante's

Il giuramento

on 14 November 1838 was a success but Nourrit's voice and health (both mental and physical) began to decline seriously. After a concert on 7 March 1839 he thought the audience's warm reception was intended to mock him. In despair, he committed suicide the following morning by jumping from his window in the Hotel Barbaia in Naples. Back in Paris, his friend, the guitarist
Trinidad Huerta
, honored him in a musical elegy for voice and piano:
Mélodie
à la Mémoire
d'Adolphe Nourrit
Nourrit n'est plus. Nourrit is no more.
Versez, versez des larmes, Let tears flow,
Aux souvenir d'un talent si précieux; To the memory of such a precious talent.
Car il avait dans la voix tant de charmes, For he had so much charm in his voice,
Qu'en l'écoutant on se croyait aux cieux. That upon hearing it, one felt as if in heaven.
Pleurez, pleurez filles de l'harmonie! Weep, oh weep, daughters of harmony!
Ils ont cessé les chants mélodieux; The melodious songs have ceased.
Nourrit n'est plus: l'artiste de génie Nourrit is no more: the artist of genius
Quitte la terre et regagne les cieux. has left earth and entered into heaven.

L
isten to Huerta's "Mélodie à la Mémoire d'Adolphe Nourrit," sung by Teresa Radomski.


Bibliography
Henry Pleasants,
The Great Tenor Tragedy: The last Days of Adolphe Nourrit as told (mostly) by himself
(Portland, Oregon: Amadeus Press, 1995). A valuable collection of letters in translation.

Evan Walker,
Adolphe Nourrit,
(doctoral dissertation, Peabody Institute, 1989).

Evan Walker, "Adolphe Nourrit," in

The New Grove Dictionary of Opera

(London: Macmillan, 1992) vol. 3, pp. 625-626.

Evan Walker, "The Fable of Adolphe Nourrit,"
Journal of Singing,
(March/April 2008) vol. 64, No. 4, pp. 411-416. Explores the nature of Nourrit's voice.



[Return to Homepage]