Un avvertimento ai gelosi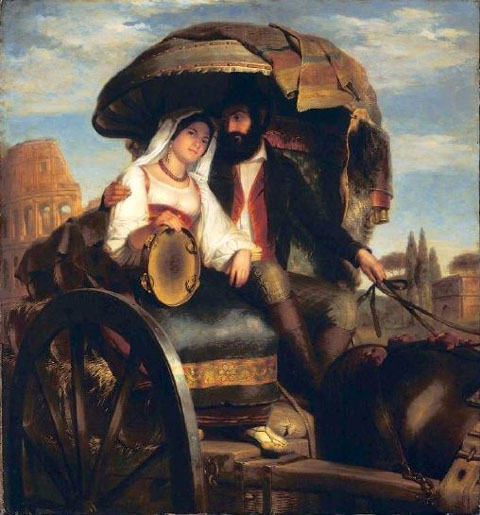 Manuel García's Un avvertimento ai gelosi ("A Warning to Those Who are Jealous"), composed in 1831, is one of five "salon operas" completed during the final years of his life, created for the vocal, musical and dramatic education of his students. The opera is based on the 1804 libretto by Giuseppe Maria Foppa (1760-1845), which was first set to music by Stefano Pavesi (1779-1850). Only two additional settings of Foppa's libretto have yet been documented: the 1831 salon opera by Manuel García and another version produced in the same year by the Irish composer and baritone, Michael Balfe (1808-1870). Foppa excelled in the one-act farsa genre that originated in Venice in the 1790s and remained popular through the early nineteenth century. The libretto title page designates Un avvertimento ai gelosi as a "farsa giocosa." García labeled his setting an "opera per soscieta" [sic] ("society opera"), indicating that it was meant to be performed in an intimate social setting. With the objective of composing a work for his students, García took advantage of the opportunities for ensemble singing that Foppa's libretto provided: a duet (male-female), a trio (three males), and a quartet (one female, three males), along with an extended Finale, in which the opera's six characters sing successively and in various combinations before the closing tutti chorus. To these, García added another duet (male-female) with a preceding recitative, apparently written to his own text. The ensembles are vocally challenging, skillfully constructed by García to develop coordinated virtuosity while enhancing the dramatic scenario. The opera also contains arias that are designed for improvised ornamentation, an artistic skill García deemed absolutely essential and therefore expected of his students. Following his retirement from an illustrious performing career, García enjoyed creative collaborations with his students and took special pride in their performances. While it is unknown whether Un avvertimento ai gelosi was actually performed during García's lifetime, the opera's sentimental humor has an enduring appeal that, together with charming arias, virtuosic fireworks, and brilliant ensembles, retains the potential to delight today's singers and audiences.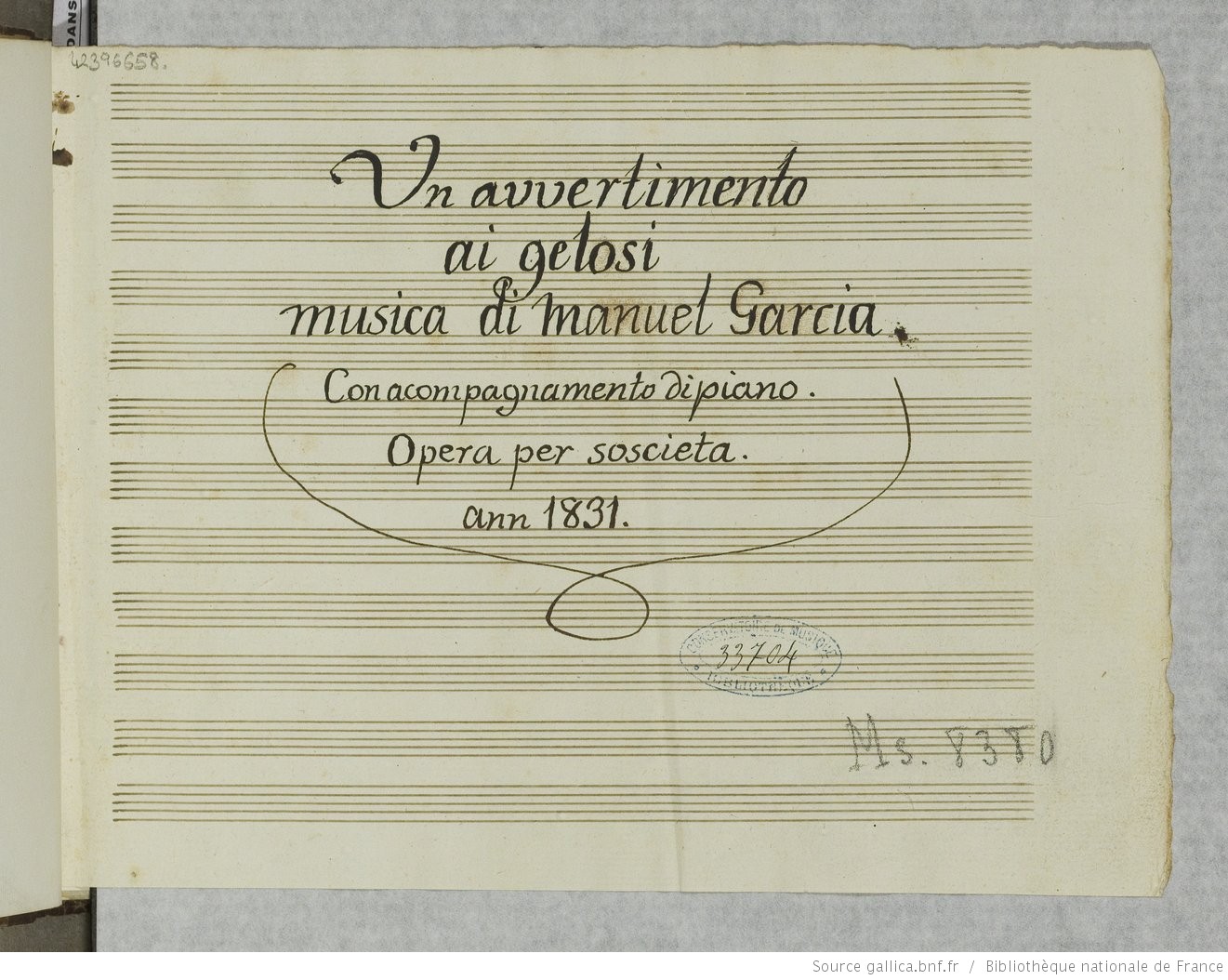 The complete manuscript can be seen at:
Gallica, Bibliothèque Nationale, Paris

Synopsis
Un avvertimento ai gelosi is a typical farsa giocosa, with a comic plot that features a jealous husband and his innocent, but flirtatious, wife. Berto, the highly jealous husband, unjustly suspects his pretty wife, Sandrina, of infidelity. He complains about the inconstancy of women in a cavatina introduzione ("È una cosa da scioccone") that opens the opera. The couple's marital tension is conveyed in their subsequent recitative and duet ("Son quà, dì sù, che vuoi …"), although genuine affection for each other is also apparent. When their new feudal lord, the Count Ripaverde, arrives to look over his estate, he is immediately attracted to Sandrina, as is the Count's secretary, Don Fabio, a pompous dandy. In order to punish Berto for his jealousy, Sandrina takes advantage of the situation by flirting insincerely with the Count, who confesses his feelings for her in an aria ("Nel vagheggiar quel viso") before leaving the scene. Alone with Sandrina, Fabio begins to woo her himself. In a duet ("Io ti vidi t'ammirai"), her rejection of his pretentious gesture only inflames his passion. When the Count instructs Fabio to follow Sandrina to her house, he happily obeys. There he encounters Berto and a simple—but wise—gardener named Menico. While trying to mitigate fuming rivalry, Menico joins Berto as he threatens Fabio in an amusing trio ("Ehi di casa …"). Returning to the scene, the Count notices that Sandrina seems unhappy and tries to discover what is bothering her, displaying a comforting attitude in his attempt to win her over. In the midst of the Count's sympathetic advances, Berto further complicates things by bursting forth and declaring that Sandrina is his sister. Sandrina is outraged, but the Count is delighted and proceeds to pursue her with increased ardor, in the presence of her perplexed "brother". Berto clumsily reverses his false declaration, causing the Count to believe that he must be Sandrina's lover. Still furious, Sandrina continues to refer to Berto as her "brother" while the Count vows to make her his bride, Berto fumes, and Fabio remains on the periphery, with his eye still on Sandrina. In a heated quartet ("Sappi che vivo amante"), the Count, Sandrina, Berto, and Fabio exclaim their emotions, building to a dramatic climax at the midway point of the farsa. Sandrina leaves with the Count and Fabio, while Berto storms off in the opposite direction. Just at this moment, the Count's long-forgotten fiancée, Ernesta, arrives and encounters Menico, explaining that she is looking for the Count. She sings an aria ("Chi serba nel petto"), avowing her devotion in spite of the Count's inconstancy. Menico fully understands the situation: he knows that Sandrina is truly faithful to Berto and that she is only pretending to be interested in the Count in order to punish her unjustly suspicious husband. Menico relates Ernesta's plight to Sandrina and the two (Menico and Sandrina) conspire to rectify the situation. In an aria sung with the Count ("Quando imbrune or or la notte"), Sandrina agrees that she will marry him that evening – after dark. Menico, who as the gardener has access to the Count's villa, hides Berto in a closet in the room where the marriage will take place. The resigned Fabio enters the room and composes a poem for the wedding couple, but when he exits, leaving the poem on the desk, Berto rushes out of the closet and seizes the paper. When Fabio returns to find his poem missing, he proclaims that its beauty must have caused the god Apollo to descend and claim it for himself. The Count appears, reprimanding Fabio for his crazed assertions, and chases him out of the room. Sandrina arrives as promised, but she requests that all the lights be extinguished before commencing the wedding ceremony, during which the Count swears that he will be a faithful spouse to the one who gives her hand to him. As it turns out, that hand happens to belong to Ernesta, whom Sandrina cleverly positions adjacent to the Count in the dark. Believing that Sandrina has just married the Count, Berto leaps out of the closet with knife in hand, terrifying Fabio and the servants, who enter the room with lanterns. Amidst general confusion, a sextet ("Che vuol dir? che cosa è questa!") ensues, in which Sandrina, Berto, Fabio, Menico, Ernesta and the Count try to grasp what has happened. The Count is taken aback but soon embraces Ernesta; Berto, contrite, begs Sandrina for forgiveness; and all join in a chorus ("Che diletto mi sento nel petto!"), praising the triumph of love, joy and peace.
Notes and synopsis taken from:
Manuel García: Un avvertimento ai gelosi, ed. Teresa Radomski
Recent Researches in the Music of the Nineteenth and Early Twentieth Centuries, 65
A-R Editions, Inc., Middleton Wisconsin
© 2015 by A-R Editions, Inc.
The complete score, including notes on performance, translation and critical notes is available for purchase at the A-R Editions website. Click to order: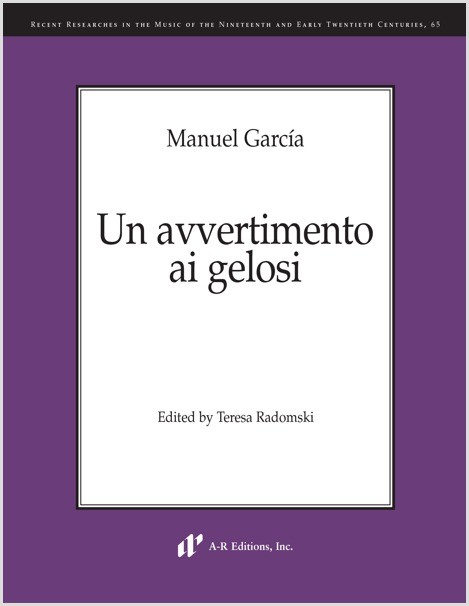 Uploaded May 7, 2015
Teresa Radomski