Charles Baetens
1823-1908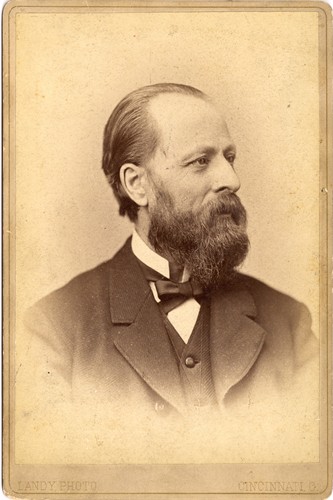 Charles Baetens

courtesy of his great-grandson, Dion Beck


Charles Baetens (1823-1908) was a professional violist, violinist, and composer. His studies began in Holland, where he was born.

For three generations his family had been musicians. His father gave him instructions on the violin when he was four years old. So marked was his talent as a child it attracted the attention of Emperor William I of Germany, who sent him to Brussels. [The Evening World, January 16, 1908]

Although all biographies have given 1826 as the birth date and The Hague as the place of birth, his great-granddaughter, Marianne Hall, has obtained from the Centraal Bureau Voor Genealogie in the Hague a birth certificate which gives the birth date of January 14, 1823 at Leiden for Charles Nicolas François Baetens. His father was Joannes Baptist Barends (b. 1782) and his mother was Theresia Naats (b. 1791). His father was a "trumpeter of the 2nd division," who lived in the Witte Poort district of Leiden.



The earliest notice of a public appearance by Baetens was on June 26, 1841 when he performed with his sister, a pianist, at a soirée in The Hague. [Kunstkronijk, Uitgegeven ter Aanmoediging en Verspreiding der Schoone Kunsten (Tweede Jaar 1841-1842, Sgravenhage, Nederlandsche Maatschappij van Schoone Kunsten), p. 5.] .

Upon winning a scholarship from the Royal Conservatory of The Hague, he traveled to Brussels where he studied violin with Charles de Bériot (the lover of Maria Malibran) and composition with François-Joseph Fétis. On August 16, 1843 Baetens married Alida Maria Bruinink at The Hague. Sometime during the 1840s Baetens apparently entered the English military where he conducted and arranged music for military bands in England and in India. After a two-year stint in India he returned to London where he played violin in the Royal Italian Opera Orchestra and in the Philharmonic. [David M. Bynog, "Charles Baetens: Portrait of a nineteenth-century violist."]

In 1849 he became principal violist of the Gentlemen's Society Orchestra under the direction of Sir Charles Hallé (1819-1895), who was very close friends with Manuel Patricio García. Both his violin and viola playing were highly esteemed. In a review of the Sextet in E flat, Op. 30 for piano, two violins, viola, violoncello and double bass, by George Onslow (1784-1853), Baetens' contribution as second violin was noted:

M. Baetens pleased us much by his method of bowing, and by his blending his second fiddle so well with his right and left-hand coadjutors, aiming at a general in preference to an individual effect—the very first end to be arrived at in the interpretation of chamber music.


[The Musical World, Vol. 25 (1850), p. 101]

As was his performance in Beethoven's "Archduke Trio" in B-flat, Op. 97:

Mr. Baetens is a capital chamber performer, so unobtrusive and anxious for the success of the whole—not for his own display.


[The Musical World, Vol. 25 (1850), p. 789]

For the twenty odd years that Baetens worked with Hallé,

he not only played in the orchestra but contributed several orchestral compositions and arrangements. An Overture by Baetens opened Hallé's concert on Wednesday, October 9, 1850.

In the first overture, we hailed with much pleasure and promise an entirely new feature at these concerts, in a highly creditable specimen of the creative talent of the orchestra. It is a manuscript composition, by M. Baetens, one of the new principals of the band, whose exquisite tenor-playing [viola-playing] we have more than once had occasion to notice, and who needs no further confirmation of the reputation which he enjoys, with those who know him more intimately, than this work, evidently the production of a thorough musician. As such, it is hardly possible to judge of all its merits at a single hearing. M. Baetens has judiciously avoided the prevailing fault of too many young composers of the present day, who, in the affected eccentricities of a would-be originality,—the result of mistaken talent or perverted study,—would seem to aim merely at running counter to all established laws in the constitution of music, without having the credit of one single new idea. In his overture, our modest aspirant has, on the contrary, wisely conformed to preconceived notions, and constructed it after the best models. Though it may lack startling novelty, there is much freshness even in the familiarity of his subjects, his treatment of which displays a complete knowledge and skillful management of orchestral resources. The melodies are graceful, and we were particularly struck with the beautiful effect of the finale. Altogether, it is a work we shall be glad to hear again.


[The Musical World, Vol. 25 (1850), pp. 680-81]

This was most likely the Ouverture No. 2 de Concert à Grand Orchestre composed in 1846 at The Hague. This is the only extant orchestral work by Baetens and was quite an accomplishment for the 23-year-old composer. It is clearly inspired by Mendelssohn and there are obvious borrowings from that composer's overture to A Midsummer Night's Dream. There are also reminiscences of the first movement of Schubert's 9th Symphony (premiered posthumously by Mendelssohn in 1839). But there are also passages of considerable originality and beauty. To see the score and listen to an audio clip, click on the links below under the list of works.

Among the works Baetens composed for the Gentlemen's Society Orchestra, his Albion: Grand National Fantasia on English, Irish, Scotch and Welsh Melodies, premiered in 1857, was particularly popular in its day.

Baetens seems to have been something of a character: in January of 1860 he was imprisoned in the Liverpool jail. [The London Gazette, January 10, 1860, p. 106] And in 1871 there must have been some sort of falling-out with Hallé who declared in a letter of October 21, 1871 that Baetens "has not resigned but has been dismissed." [Robert Beale, Charles Hallé: A Musical Life, (Aldershot: Ashgate, 2007), p. 152]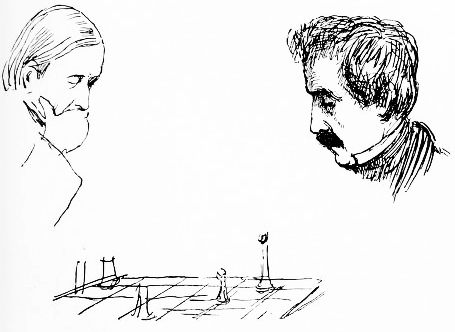 Charles Hallé and Manuel Patricio Garcia playing chess

from a sketch by Richard Doyle (1824-1883)



Undaunted, Baetens came to the United States where he was engaged as first violist with the Thomas Orchestra under the direction of Theodore Thomas (1835-1895). It was with this orchestra that he gave the first complete performance of Berlioz's Harold in Italy on October 28, 1874 while on tour in Boston. In 1878, when Thomas became head of the Cincinnati College of Music, Baetens was procured to teach viola and perform in the orchestra. He also taught violin, piano ("with violin accompaniment"), harmony, composition, instrumentation, and "vocal reading at sight" at his home at 452 Elm Street. [Church's Musical Visitor, November 1881] A contract he signed in 1881, however, stipulated that he teach viola, violin, piano, theory, ensemble classes, and "furthermore to give his entire professional services as performer or teacher as directed by the College, and not to give lessons or to perform outside of the College without its consent." [Entire manuscript can be seen on-line at the website of the Cincinnati History Library and Archives] Perhaps it was this sort of tyrannical control of his time and energy that induced Baetens, in 1888, to move to Omaha, Nebraska.

He first came to Omaha in 1887 with an orchestra that played a one-night engagement there. He was so taken with the area that he moved to Omaha and established a music studio in the old Boyd Theatre.
.......
He was considered something of an "eccentric character" by his Omaha friends. As a young man he had fought several pistol duels, and finally committed suicide by shooting himself the day after his 82nd birthday.
[Music of Old Nebraska, Authors Catalog.]

He continued to perform and teach at least until 1897 by which time he was known as "Dr. Baetens" or "Professor Baetens." [The Musical Critic, vol. 1, No. 2, Chicago, Nov. 16, 1897]

"You must be able to play the thing standing on your head," old Dr. Baetens used to say.
[From "Getting Ready for the Violin Recital" by George Barker, Jr., The Etude (July 1921), p. 470]
Baetens claimed that "he applied for and received the degree of doctor of music at Oxford" in 1885. [Omaha World Herald, November 20, 1898] This "instant degree" apparently coincided with a trip to England and Holland that year:

Another Professor of the Faculty, so well and favorably known here, who was identified with the college almost from the beginning and of whom Theodore Thomas once said, 'He is the only viola player I ever had in my orchestra,' will find himself during the vacation months in sturdy old England—Charles Baetens. He goes to visit his wife and children, residing in London. But the poetry of his tour is to be found in the fact that, after an absence of thirty six years, he will visit his mother country—Holland the land of dikes and canals. Here he will find many relatives, and more friends, with whom he spent the youth of his days.

[Cincinnati Commercial Tribune, July 12, 1885]
Sadly, unable to cope with a final illness, he committed suicide on January 14, 1908—his 85th birthday.

In a fit of despondency due to ill health, Charles Baetens, the violinist and composer, committed suicide yesterday by shooting himself through the heart. He quietly celebrated his eighty-second [sic: see third paragraph at the top of the page] birthday yesterday, and at that time gave no sign of mental depression. [The Evening World, January 16, 1908]
Despite the suicide, he was given a simple funeral service at St. Francis Xavier Catholic Church.

The services, like the life of the deceased, were simple. Except for the strains of the organ at the opening and close there was no music, and the services comprised merely the prayers, the ceremonial censing of the body and a brief address by the officiating priest.

Father Walsh took up in his address the comfort of religion in times of trial using as his text the words, "Come unto me, all ye that are weary and heavy-laden and I will refresh you." Emphasizing the fact that all men seek something above and beyond themselves, Father Walsh made a strong plea for the true service of God in human life on earth. "The pagan," he declared, "has turned time and time again to the things of this world, seeking some divinity, adoring now virtue, now vice. But all such seeking is but vanity. Vanity of vanities, all is vanity except the seeking for union with the true God, except the constant service of the true God. It is only the Christian religion that can sustain us in our trials as well as in our fortunes.
[Council Bluffs Daily Nonpareil, Saturday, January 18, 1908, p. 5]

In 1908, the year Baetens died, his Albion: Grand fantasia on Scotch, Irish and English Airs was published by Carl Fischer in an arrangement for band by Miguel C. Meyrelles (b. Portugal, 1837; d. Washington D.C., 17 August 1900). It had already been performed for years in the U.S. and seems to have been even more popular in the U.S. than the orchestral version had been in England. There are several notices of performances from the 1880s through the 1920s. It was featured, for example, as the finale of a Grand Concert performed by Cappa's Seventh Regiment Band, N.G.S.N.Y. for the Veteran Firemen's Association of the City of New York on their Transcontinental Excursion from New York to San Francisco in September 1887. And it eventually became a staple in performances of Buffalo Bill's Cowboy Band!

Click to hear a performance of Baetens' Albion: Fantasia on Scotch, Irish, and English Airs (1908) (arr. by M.C. Meyrelles) by The Americus Brass Band: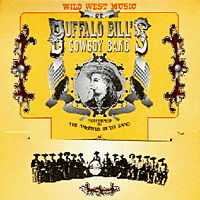 Click here to download the score and parts (courtesy of David Bynog):
Albion: Fantasia on Scotch, Irish, and English Airs (1908) (arr. by M.C. Meyrelles).

WORKS by Baetens
Baetens seems to have composed all throughout his life:

Musical America last week contained the following complimentary notices of two Omaha composers:

"In addition to her musicians who have made themselves reputations as performers, Omaha has a number whose names have become well known as composers. At the head of these, of course, is Dr. Charles Baetens, one of the best teachers of harmony in this country. He has composed a number of songs, overtures, masses and solos for the violin."

[Omaha World Herald, January 22, 1899]
Unfortunately, only a few of his works were published. Hopefully, with time and research, some of his manuscripts may surface. If anyone has information about additional Baetens' compositions, please e-mail me at: radomski@csusb.edu.



**********************************************************************************************


Ouverture No. 1 [If there was an Ouverture No. 2, there must have been a No. 1!]

Ouverture No. 2 de Concert à Grand Orchestre [1846]
[Koninklijke Bibliotheek. Den Haag, 2595 BE Netherlands]
[Microform copy at Universitat Autònoma de Barcelona]
Click here to download the score: Ouverture No. 2.
Click here to listen to a synthesized performance: Ouverture No. 2 Audio.
(If you first download the score to your desktop you can then listen to the audio while following the score.)
Be sure to check the review (most likely of this work) from The Musical World above.

Overture [Performed October 9, 1850 (see the review above); given the comments in the review, this is probably the Ouverture No. 2.]

1st Concerto for violin [1853]
"Baetens showed his fine tone and stopping in a solo from his own concerto for the violin, and got much applauded." [The Musical World, Vol. 31, No. 2 (January 8, 1853)]

The National Selection, composed expressly for the Manchester Art Treasures Exhibition Concerts, etc. [Pianoforte with cornet ad lib. Parts.] London: Joseph Williams, [1857]
[British Library: Music Collections h.721.a.(8.)]

Albion: Grand National Fantasia on English, Irish, Scotch and Welsh Melodies [1857]
A band arrangement by M.C. Meyrelles was published by Carl Fischer in 1908. [Sousa Archives]
An arrangement for piano by Carl Kiefert was published in 1905 by J. Williams. [British Library]

Fantasiestücke. For viola and cello. [Bynog]

Fantasia on Airs from the Bohemian Girl. For viola and piano. [1862 according to Bynog]

String Quartet in B minor [unpublished, 1864]

The quartet of Mr. Baetens—the well-known tenor player from Manchester—was a genuine success, and it likely to be heard again. [Review of a concert at Henry Baumer's. The Musical World, June 18, 1864, p. 395]

Tarantelle (flute solo) [Spitzer (ed.), American Orchestras in the Nineteenth Century (Chicago: U. of Chicago Press, 2012) lists one performance in Cincinnati in 1870]

Cadenzas for the Concerto for Flute and Harp by Mozart (K. 299/297c), composed for the "Grand Mozart Night" by the Thomas Orchestra in Central Park.
[New York Herald, August 17, 1875]

Overture, Night and Morning [Spitzer lists performances from 1876 to 1879 in Philadelphia and New York City]

Elegy. For viola. [Spitzer lists performances at Gilmore Garden in New York City in 1878]

Trio, for violin, violoncello, and piano, [unpublished, 1879].

At the Musical Club to-morrow afternoon two new compositions by Mr. Charles Baetens will be performed. They are an Introduction and Tarentella for flute to be played by Mr. Wittgenstein, and a trio for piano, violin, and violoncello to be played by Messrs. Mees, Baetens, and Hartdegen.

[Cincinnati Daily Gazette, May 10, 1879]

Introduction and Tarantella, for flute and piano, 1879.

[A]n interesting novelty in the shape of a tarantella for flute, with piano accompaniment, composed by Mr. Charles Baetens, viola player of the Thomas Quartet and Orchestra, and Professor of Theory and Harmony in the College of Music.

[Cincinnati Daily Gazette, 6-23-79]

See also the review for the preceding Trio.
This is likely the same as the Tarantelle, mentioned by Spitzer, performed in 1870; perhaps the Introduction was added in 1879.

Why do lovers sigh? For solo voice and piano. Words by "Chalk Level" (Cincinnati: John Church, 1880).
Free download available at: Library of Congress (1).

Invocation. For SATB and piano. Words by C.M. Clark (Cincinnati: John Church & Co., 1881).
Free download available at: Library of Congress (2).

June Has Come: Canzonetta. For solo voice and piano. Words by "Chalk Level" (Cincinnati: John Church & Co., 1881).
Free download available at: Library of Congress (3).

Click here to listen to a performance by Teresa Radomski and Thomas Turnbull:

June Has Come
June has come, June has come,

The roses are blowing,

While the honeybee sings in the sun.

The birds to their mates are calling,

The last spring blossoms are falling,

and the daffodils die one by one.

June has come, June has come, June has come,

and the daffodils die one by one...

By the stream which ever is flowing.
Trio, for violin, viola and cello; unpublished, 1881. Reviewed in the Cincinnati Commercial on April 27, 1881:

"The music of Mr. Baetens is written in the simple, naïve style of Papa Haydn, now unhappily obsolete or obsolescent." [Bynog]


Quartette in A Minor [String Quartet], unpublished, 1881. Baetens won a $200. prize for this work in Cincinnati. [Bynog]

a. (I) Grave. (2) Allegro energico.

b. Andante expressive.

c. Scherzo vivace assai.

d. Allegro con brio.



First Violin---------Charles Baetens

Second Violin------Henry Buick

Viola----------------J.A. Broeckhoven

Violoncello----------Michael Brand


[Cincinnati Commercial Tribune, February 5, 1882]





Mr. Charles Baetens' quartet in A minor was awarded the first prize, and we think there was no opposition to this with those who heard this magnificent composition. There is everything represented in this work that constitutes a good composition[:] harmonies of rare beauty, artistical arrangement, and learned instrumentation throughout. With this composition we are at a loss to mention those movement which excel most. They really are all excellent; but, if it is necessary to make a discrimination to our taste, we would call the scherzo, and above all, the final movement, the most powerful ones.

[Cincinnati Daily Gazette, February 8, 1882]

A Midsummer's Holiday: fantasia for orchestra, [unpublished, 1884].
[The Musical Visitor, September 1, 1884]

Duo Brillante Concertante, for viola and violoncello, [unpublished, 1885?]

In The Musical Club Rooms are given during each season some of the most charming performances imaginable. On the evening of the 29th ult. Mr. Baetens' Prize Quartet in B minor Op. 46 [sic; presumably this was the prize-winning Quartette in A minor listed above], and his Duo Brillante Concertante for viola and violoncello were elegantly performed.

[The Musical Visitor, vol. 14, No. 1, January 1885]
Nocturne (Cincinnati: John Church & Co., [1887])
[The American Bookseller (July-December, 1887)]



Gavotte Élégante, dedicated to "Miss Ida Leland." In Modern Classics for Violinists, compiled by Roland de Berton (New York: Carl Fischer, 1894).
Click to download violin score (the Gavotte is on p. 26).
Click to download piano score (the Gavotte is on p. 62).
Click here to listen to a synthesized performance of Baetens' GAVOTTE for violin. (Although the performance is artificial, it still gives a good idea of the work's charm.)

Fantasia [for violin], Op. 54, dedicated to "Miss Emma Balbach." (New York: Carl Fischer, 1894).
[New York Public Library].
Click here to listen to a synthesized performance of Baetens' FANTASIA for violin.

Concerto in D Major for Violin, dedicated to Herbert Butler [1894].
Unpublished; The Omaha Daily Bee of Sunday, November 4, 1894, mentions a new violin concerto by Charles Baetens performed by Mr. Butler. This was Herbert Butler (1867-1946) who studied violin, theory, composition and orchestral conducting for four years with Baetens before going to Europe to studied with, among others, Joseph Joachim. After returning from Europe he taught violin at the Chicago [American] Conservatory. [The Musical Critic, (Chicago) vol. 2, no. 12, October, 1899]

Than came the distinct event of the afternoon, the premiere of Dr. Charles Baetens' new concerto in D major, dedicated to and played by his pupil, Mr. Herbert Butler, Mr. Martin Cahn accompanist. The composition shows careful and conscientious study, somewhat conventional in form and suggestive in the opening bars of Rubenstein, but beautifully worked out, strongly phrased and technically, quite difficult. It is undoubtedly Dr. Baetens' strongest effort in composition, and is, in every sense, worthy of the composer, who enjoys the largest measure of respect in this community. It was hard, however, to judge of the orchestration, the piano score not being sufficient to give one a clear idea of its balance, but Mr. Cahn played with skill and judgment. Mr. Butler received many compliments for his very scholarly rendition of the concerto of his master. He played the difficult passages with ease and fine ability, although at times he seemed to lose the governing theme in the care he bestowed upon the runs. But his was a personal triumph, and he made a step forward through his work of Monday that, taken advantage of, will land him among the "big wigs" of the violin. Dr. Baetens was called for and responded in a few happy words, saying that much of the credit of the composition was due the intelligent manner which marked its interpretation. [Omaha Daily Bee, November 4, 1894]
Fantasia: The Shamrock, Rose and Thistle [1894?] for band.
Performed at the San Francisco "Mining Fair" in February of 1898 [San Francisco Call, February 16, 1898],
by Bellstedt's Famous Band in Denver on July 24, 1910 [Denver Municipal Facts, July 23, 1910], and in Iowa City in
August of 1912, etc. John Philip Sousa also arranged this tune [Sousa Archives, University of Illinois].

Polka Française, for piano, dedicated "To my daughter Regina" (Regina Baetens Beck, 1891-1976); unpublished; manuscript in possession of Baetens' descendants. [Bynog]
Click to hear a synthesized performance of Baetens' POLKA FRANÇAISE. One senses a bit of ragtime influence!

An Offertorium, for organ, dedicated to Maud E. Mueller, unpublished; manuscript in possession of Baetens' descendants. [Bynog]
Click to hear a synthesized performance of Baetens' OFFERTORIUM.

Pastorale, for organ, dedicated to Thomas J. Kelly, 1897.

Easter is a time when all the world begins anew and in this work-a-day time the tendency is toward gorgeous bonnets, but Mr. Thomas J. Kelly had something new which he was saving and those who attended the Easter evening service at the First Methodist church heard one of the prettiest organ compositions offered in Omaha for a long time. It was a "Pastorale" from the pen of Dr. Charles Baetens and dedicated to Mr. Kelly.

[Omaha World Herald, April 25, 1897]



Thomas James Kelly (b. Ireland, 1870; d. Cincinnati [?], 1960) was organist at both the First Methodist Church and the St. Mary's Avenue Congregational Church, and directed the Mendelssohn Choir and the Mondamin Choral Society in Omaha. In 1898 he was appointed Superintendent of the Bureau of Music at the Trans-Mississippi and International Exposition in Chicago. In 1918 he moved to Cincinnati where both he and his wife taught voice at the Cincinnati Conservatory. He became an American citizen in 1918. From 1929 until 1951 he was director of Cincinnati's Orpheus Club. In recognition of his innumerable contributions, the first endowed chair at the Cincinnati College-Conservatory (The Thomas James Kelly Distinguished Professorship) was established in his name.

Our United States: A National Song. Lyrics by Abraham Rudy. (Omaha, Nebraska, [1897]).
Free download available at: lincolnlibraries.org.

The board of education at its last meeting unanimously accepted the proposal of Prof. Abraham Rudy to furnish a copy of his patriotic song, "Our United States," free to each teacher in the public schools provided that they were sung in the schools. He composed the words of the song, and the music was composed by Dr. Charles Baetens.

[Omaha World Herald, February 2, 1897]

Romance, for cello, dedicated to Mr. Charles Tulleys, [1897].
[Omaha World Herald, October 23, 1899]
Although this may have been dedicated to Charles Tulleys in 1899, it had already been performed by Mr. John Brown at Creighton College on February 21, 1897. [Omaha World Herald, February 18, 1897]



BIBLIOGRAPHY
Bynog, David M. . "Charles Baetens: Portrait of a nineteenth-century violist." American String Teacher, vol. 59 no. 4 (2009), 46-49.

Brainard's Biographies of American Musicians [originally published 1887-1889]. E. Douglas Bomberger (ed.). (Westport, Conn.: Greenwood Press, 1999), p. 19:

Baetens, Charles (fl. 1856-1887); No. 81 (October 1884). Mr. Baetens was born in Holland (the Hague) and first received instruction at the Royal Conservatory, where he won the first prize, which entitled him to two years study at Brussels without personal expense. Here he studied the violin under Charles de Bériot and composition under François-Joseph Fétis. In 1856 he went to London, where his mental acquirements gained him first a position to conduct and arrange music for military bands. Then later he was made British Band master. This position he filled for six years, remaining with his regiment during its stay in Calcutta, India. Returning to England, he gave up military duty and became a member of the Philharmonic and the Royal Italian Opera Orchestra and formed with Herr Joseph Joachim and Signor N. Riatto one of the original quartets of the celebrated Monday Popular chamber concerts in St. James Hall. He at that time gained an enviable reputation as a composer and arranger of orchestral music. The instrument to which he devotes all his energies for public performance is the viola, and therein he has no equal today in America. In 1872 Theodore Thomas secured him as the principal viola of his orchestra. There he remained until he came to Cincinnati, where he now resides and where he is considered one of the best and most successful teachers. Some of his confreres accuse him of being ultra old school in his tastes and convictions. True, he has a profound admiration for Mendelssohn, but not more so than for the beloved musician of all ages, Beethoven. His grasp on the literature of his art is wide, and if his views are in any way confined, the fact never appears on the surface. No matter what may be, Mr. Baetens is an able musician, a thorough scholar in the theory of music, and a man who is deserving of great respect.

Charels Baetens taught at the Cincinnati College of Music in the mid-1880s and is last found in the Cincinnati City Directory of 1887-1888.




—James Radomski
With thanks to Molly Nelson-Haber for valuable research assistance,
And also to David Bynog for help in updating the list of works.
And to Marianne Hall for clarifying birth/marriage information and assistance in locating scores.
Published May, 2013.
(Updated July 5, 2013.)
(Updated again January 18, 2014.)