Salve Regina (1828)



During the summer of 1828 there was a drought in Mexico and so a special novena to Our Lady of Remedios was held to seek Mary's intercession for a divine solution to the problem. The novena was to end with a special performance of Manuel García's

Salve Regina

in the Cathedral. This was not to be, however, because García was to find himself (and his

Salve Regina

) a pawn in a dispute between liberals (the city's politicians) and conservatives (the Church hierarchy). The Cathedral Chapter didn't want to have worldly opera singers in the Cathedral and insisted that the

Salve

at the end of the novena be sung by a religious order. Their argument was that, by having actors in the Cathedral, the congregation might confuse a "place of worship" with a "place of entertainment." The liberal

Correo de la federación mexicana

lashed out against the Chapter's decision:


But that which cries for the festive pen of Molière or the caustic one of Voltaire is the notion that the

Chapter should avoid the danger

that the public might focus its attention on the

merit of the music

and on

those who perform it with their voices and their instruments.

That is to say that, in order to avoid such a 'danger', only a

lousy flautist

should play in the Cathedral and that the worse the music is, the better served will be the worhip of God and His saints. Have we forgotten that God enjoyed David's harp?
...Furthermore, for the Chapter to be consistent, they should prohibit the musicians of the Cathedral choir from ever belonging to the theatre orchestra so that

the public will not confuse it with the holy place of worship

; likewise, they should be ordered to never play at

dances, weddings or parties

because the public might confuse these with the

holy place of worship.

What foolishness arises when things are done thoughtlessly! May Sr. García be consoled by the thought that God and the Holy Virgin and we also appreciate his

Salve.

(20 June 1828; quoted in Radomski,

Manuel García,

p. 226)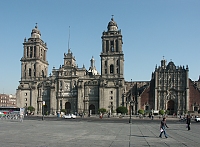 Mexico City Cathedral

photo Mary Ann Sullivan

Nonetheless, it seems that the decision of the Cathedral Chapter was upheld and that García's Salve was never performed in his lifetime. The work, for male choir and soloists (both tenor-tenor-bass) with orchestra, shows yet another side of García's creativity: it is a very sweet, intimate work. García's own religious convictions remain a mystery. His daughter, Pauline, in 1867, said he believed "neither in God nor the devil" (April Fitzlyon,

Maria Malibran: Diva of the Romantic Age

(London: Souvenir Press, 1987), p. 26; quoted in Radomski,

Manuel García

, p. 255). But he did join in a Corpus Christi procession while in Mexico (Radomski,

Manuel García,

p. 221). Perhaps, like many a Sevillian gentleman through history, he wandered from the Faith1, but retained sentimental memories of a childlike Marian devotion and the effusive public display of religiosity (as seen in Seville's famous Holy Week processions) throughout his life.

Be that as it may, the

Salve Regina

is a charming compact work that recently received its world premiere in performances by the California State University San Bernardino Chamber Singers on their tour of Spain (summer 2010) under the direction of Andrew Crane.

1Molly Nelson-Haber has recently brought to my attention the fact that García was a member of the prestigious masonic lodge,

Les Chevaliers de la Croix,

in east Paris as early as 1811. This merits further exploration! See "NEUKOMM et la Franc-Maçonnerie" at: http://www.musimem.com/neukomm.htm

Download the vocal score of García's Salve Regina:

1. Salve Regina
2. Ad te clamamus
3. Eia ergo
4. Et Jesum
5. O Clemens

This music is for personal use only. All copyright restrictions apply.


[Return to Homepage]