García Masses



According to Sterling MacKinlay, in 1818 Manuel García "created a further sensation by singing at the chapel of the Bavarian Embassy in Warwick Street, where several masses of his own composition were given." [Sterling MacKinlay, Garcia the Centenarian And His Times (1908), pp. 42-43]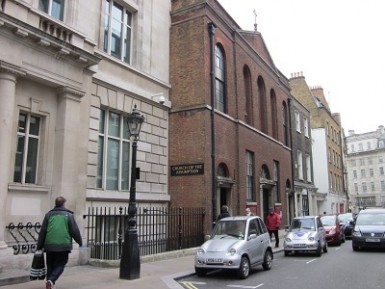 (former Bavarian Embassy chapel, Now the church of
Our Lady of the Assumption & St. Gregory
)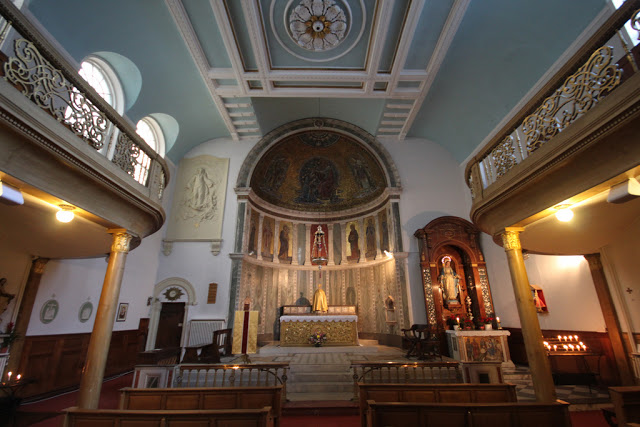 (interior of the

chapel

)


Before the Catholic Relief Act of 1829 the embassy chapels were significant havens of Catholic worship and Catholic culture.

Such chapels were centres of musical excellence and musical example, in 1792 the Spanish Chapel stated that 'instruction is given gratis to those who offer to learn church music'. Moreover they constituted a crucial link with Catholic music on the continent, especially since their choirs included professional singers from the London opera scene. For example, Giovanni Liverati (1772-1846), composer and conductor at the King's Theatre, worked at the Bavarian embassy chapel, which came to be known as the 'Shilling opera'. Other professionals were its choirmaster Gesualdo Lanza (1779-1839), Begrez (1787-1803) and Manuel Garcia (1776 [sic]-1832), who composed three masses for the chapel. As a result, an operatic performance style became an established feature in many Catholic choirs before Vatican II. [T.E. Muir, Roman Catholic church music in England, 1791-1914: a handmaid of the liturgy? (2008), pp. 75-76]

Indeed, the operatic bel canto style, complete with elaborate cadenzas for solo singers, is not lacking in García's masses.


There are four masses by García contained either in autograph in the Bibliothèque Nationale in Paris or in copies in the Boston Public Library made in 1859-60 by Charles M. Baetens (not to be confused with Charles Baetens, the celebrated violist!). The autograph of the Messa 1a gives the date 1818, which supports Sterling MacKinlay's assertion above. And it is probably the third mass (with its charming tenor/bass duet on "Laudamus te") that elicited the praise of noted lawyer Charles Butler (1750-1832) in 1819:

No one can be more sensible than I am, of the exquisite beauty of the masses now sung in the chapels of the Bavarian and Portuguese ambassadors. Since the days of Pergolesi, a more exquisite composition for the church, than Garcia's mass, has not been heard; and those, who have not assisted at it, have not heard the most perfect execution of vocal music, at once elegant, pathetic and sublime, that has yet been exhibited in this country.—The words bonae voluntatis, laudamus te, and the Crucifixus etiam pro nobis, are masterpieces of learning and pathos, at once simple, elegant, sublime, and,—without which all church music fails,—highly devotional. They will not suffer in a comparison with the finest passages in the masses of Haydn or Mozart. [pp. 277-8]


********


Some of the finest services of Haydn and Mozart, and recently the service composed by Signor Garcia,

which we have already mentioned, are now excellently performed at the Bavarian chapel. Even in this era of musical excellence, it may be doubted whether those, who have not heard that service performed as it now is, by Begrez, by Garcia, and by the Naldis,—have heard the most perfect singing, which England possesses.

[p. 281]
[Butler, The life of Fénelon, Archbishop of Cambray, 3rd edition.

To which are added, The lives of St. Vincent of Paul and Henri-Marie de Boudon; A letter on ancient and modern music; and Historical minutes of the Society of Jesus.

(London: John Murray, 1819). Many thanks to Molly Nelson-Haber for bringing this source to my attention!]

Eight years later, Sainsbury's biographical dictionary also noted the impression that Garcia's masses had made; in this case it is possibly the fourth mass to which he refers as being admired.

His other compositions consist of "Endimione," (a cantata for three voices) and several masses, one of which was greatly admired in 1822, when performed at the Bavarian chapel in London." [John S. Sainsbury et al, A Biographical and Historical Dictionary of Musicians, Vol I, (London: Sainsbury and Co., 1827), p. 267]

How Charles M. Baetens came into contact with the four García masses is an interesting question. In 1853 he was the organist of the French Chapel (located at Little George Street, Portman Square) when he published his own Mass of the Annunciation and Mass of the Assumption. If he made his copies of García's masses from the autograph in 1859-60, then he must have had contact with Pauline Viardot-Garcia in Paris because she was in possession of all of her father's manuscripts until they were donated to the Bibliothèque Nationale.


I have transcribed all of García's masses from the Baetens copy. Apart from the bel canto demands for the soloists, the choral writing is not overly demanding, suggesting that he indeed intended the work for liturgical purposes, to be sung by an amateur church choir. Nonetheless, he does show considerable creativity in setting certain portions of the text: for example, in the Credo of the Messa 4a, the arpeggiated diminished-seventh chords on "descendit" (mm. 85-86) or the extraordinary dissonances at "mortuorum" (mm. 266-73). There are also truly Spanish touches, such as in the ornamentation of the vocal lines in the Kyrie. The keyboard accompaniment would certainly have been played on the chapel organ. Since the original organ is still in the present-day chapel, it would be possible to recreate quite accurately the performances as heard from 1818 through the 1820s. There are occasional liturgical problems in García's setting. In the Messa 2a, Messa 3a and Messa 4a, for example, the word "Sanctus" receives only two repetitions instead of the three in the liturgical text. Likewise, in the Messa 3a and Messa 4a, there is only one presentation of "Agnus Dei...miserere nobis" instead of two as in the liturgical text.



Click to download the score:


Messa 1a

Kyrie
Gloria
Credo
Sanctus/Benedictus
Agnus Dei





Messa 2a




Messa 3a

Kyrie
Gloria
Credo
Sanctus/Benedictus
Agnus Dei





Messa 4a
Kyrie
Gloria
Credo
Click to hear a performance of the Credo from Messa 4a performed by the combined Chamber Singers and Concert Choir at California State University San Bernardino, conducted by John Russell, on March 11, 2014.
Sanctus
Benedictus
Agnus Dei
This music is for personal use only. All copyright restrictions apply.


Click to listen to synthesized performances (may Manuel García forgive me!);
although the "performance" is robotic, it can still provide a rough idea of the music:



Messa 1a
Kyrie audio


Gloria audio
Credo audio
Sanctus/Benedictus audio
Agnus Dei audio

Messa 2a

Kyrie audio
Gloria audio
Credo audio
Sanctus/Benedictus audio
Agnus Dei audio





Messa 3a

Kyrie audio
Gloria audio
Credo audio
Sanctus/Benedictus audio
Agnus Dei audio



Messa 4a
Kyrie audio
Gloria audio
Credo audio
Sanctus audio
Benedictus audio
Agnus Dei audio





—James Radomski
(Published April 2013)
(Updated August 15, 2013)